Her first task when she began working here 25 years ago was to empty the dishwasher.  Diana Klaassen-Heshof, 50, still does this on a daily basis – not because it's fun, but because it's an important part of her job. This application specialist spends her workdays testing products to determine whether the product formulations are correct.
"We try to imitate reality as best as possible," says Diana as she opens one of the four dishwashers in the non-food lab at the Cosun Innovation Center. She points at the different types of glasses and plates in the dishwasher. "Porcelain, plastic, Tupperware… it's important to test the detergent on all kinds of materials, so that we can evaluate everything the same way."
The detergent tablets contain CMI, an ingredient made of inulin extracted from the chicory root. This is only one of many examples of how Cosun extracts substances from its own plants for use in products. The display case in the non-food lab contains, for example, personal care products like a scrub from Rituals with sugar from the Cosun Beet Company.
Lab employees like Diana are continuously testing products. The glasses and plates from the dishwasher are inspected for lime and other substances. She uses the findings to further develop the detergent tablet tested.
Apart from the four dishwashers, the non-food lab also has a washing machine. "We use standardised methods to assess the wash results," explains Diana. "The findings are used, for example, to adjust the dosage to ensure that there is no colour transfer or dirt from one clothing item to another."
All of the Cosun business groups can conduct their R&D activities in the Innovation Center. Sensus, for instance, uses inulin from the chicory root in granola bars and Duynie extracts starch from Aviko's residual waste for use as animal feed. In addition to the non-food lab, the Innovation Center also has a bakery lab, a lab for testing meat and protein substitutes and dairy products, as well as a food demo, a huge kitchen where pizza, ice cream and other foods are prepared.
The building exudes innovation and circularity. One of the meeting rooms even has a table made of beet pulp. This is one of the most important reasons for Diana to work at Cosun. "When I was younger, I combined all kinds of ingredients at my parents' bakery," she says. "At Cosun, not only can I use my technical knowledge, but also contribute visibly to the biobased transition on a daily basis."
"Keen on cycling? Then this should interest you," says Francesco Staps, Business Development Manager of Cosun Biobased Experts, during a guided tour of the Innovation Center. He shows a bottle that says Tyre Sealer. It's a product used to keep a punctured tyre from losing more air. The liquid contains Betafib, an ingredient made from beet pulp. How it works: Cosun extracts cellulose from the beet pulp and converts it into a white powder that can be used to achieve a stable formulation in products. In these types of products, Betafib creates stability: the particles in a cream or shampoo, for instance, stay neatly in place and don't 'sink' to the bottom when the bottle or container is stored upright.
Francesco Staps is the product owner at the heart of Betafib. The adventure began with a client request for a laundry detergent and fabric softener in one, he explains. "The perfume capsules that are normally found in fabric softeners don't work in detergents. They end up floating at the top of the detergent instead of being dispersed throughout the liquid. To prevent this, a special ingredient was needed. The cellulose that we had already managed to extract from beet pulp turned out to be perfect for stabilising these capsules. The ball started rolling after that."
Biobased Experts focuses primarily on using Betafib in personal and home care products. Buyers do not need any special equipment to work with Betafib. But there are other challenges that arise.  "If you replace one ingredient with another, in this case with Betafib, this changes the formulation of the product," explains Francesco. "You need to take another look at the product and change the composition of the ingredients. A shampoo, for example, should still foam as expected without compromising quality, experience or price."
One client from the very beginning is the Spanish detergent manufacturer Inquiba. Several other brands have now also made the switch to this natural ingredient. Since word has spread that Betafib is an excellent substitute for microplastics, the number of requests has increased steadily, especially since European legislation now aims to ban microplastics as much as possible in order to protect the environment. Biobased Experts plans to build a new factory to produce Betafib on an industrial scale.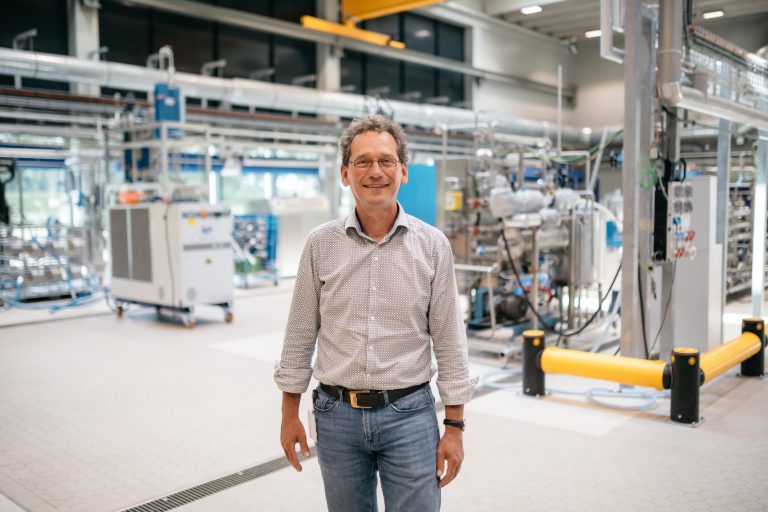 "
Betafib is a good substitute for microplastics"
Francesco Staps
Business Development Manager Cosun Beet Company Biobased Experts