Juicy, tasty and plant-based
Fidesse® has no colour or taste. A strong trait, according to Ralph. "Fidesse® has a neutral taste. That's a considerable advantage because it means that it won't influence taste." Plant proteins are often bitter. To mask that bitterness, salt is usually added to meat substitutes. Fidesse® has a neutral, non-bitter taste, so that little salt needs to be added. Fabian adds, "Another advantage of Fidesse® is its ability to absorb water and then release it again. This means that products can be made even juicier, resulting in a juicy and flavourful product."
From pulp to perfection

"What makes the Fidesse® production process so unique is that it is a mild process without any chemical applications," explains Ralph. "The beet pulp that remains after the sugar has been extracted is washed, boiled and frozen. Although that may sound very simple, a touch of Cosun magic is added, of course, to give the product its unique properties," he says with a smile. "This process was developed by our colleagues at Cosun R&D." Once frozen, the product is sent to manufacturers of, for instance, meat substitutes, who process it into a product you might find in the supermarket.
Tastier plant-based products

The ingredient consists nearly entirely of fibre, which can be a tasty and nutritious building block of plant-based products. Ralph explains, "Generally speaking, meat substitutes have a dry aftertaste. Because it's a high-fibre ingredient, Fidesse® can make a product juicier, thereby enhancing the taste experience." Fabian adds, "The product itself may not contain any proteins, but because you contribute positively to the quality of the products in the market, you also contribute to the protein transition." Ralph says, "You might say we are making the plant-based movement a tastier one."
More than just a meat substitute

If it were up to Ralph and Fabian, Fidesse® will ultimately be used in more than meat substitutes alone. Ralph comments, "There are lots of possibilities in the bakery segment and with dairy substitutes, from sausage rolls and mayonnaise to apple pie filling and cottage cheese and curd-based products. The neutral taste means it can be used in both savoury and sweet products. Fidesse® is the perfect blank building block for products, also as a bulk ingredient. Because it's high in fibre and produces a juicy mouth feel, you can use it to replace fat." Fabian comments, "Combine that with the need for fibre and relatively low caloric value and Fidesse® can contribute to a healthier product composition and possibly also a better Nutri-Score."
Understanding needs

As a Business Development Manager, Ralph takes an out-of-the-box approach to identifying new opportunities for Fidesse®. The collaboration between Ralph and Fabian makes it possible to take advantage of these opportunities. Ralph comments, "After exploring an opportunity, I pass on the knowledge I've gained to Fabian, who supports our customers with product development and analyses their needs." Fabian comments, "The tricky part is to determine from a technical perspective how you can best serve customers without having to make a huge number of changes to a process. You cannot build a new factory for every customer since, after all, that would be neither efficient nor sustainable."
Sugar beets back to the food chain

An application like Fidesse® lets the Cosun Beet Company further increase the economic value of the sugar beet. "The Cosun Beet Company aims to become the most sustainable beet processor in the world. Converting beet pulp into Fidesse® is a perfect example of this," states Fabian. A large percentage of the beet pulp produced by the Cosun Beet Company is still used for animal feed or fermentation for green energy. It is also processed into paper, including the packaging of our own kilo bags of Van Gilse granulated sugar. "An important goal is always to return valuable raw materials to the food chain as much as possible. Fidesse® makes this possible."
Within the innovation-ecosystem of Cosun, we're working hard to make the plant-based transition healthier and more tasteful. Examples are the stories of Aviko Rixona's Potato Cheezz and the functional protein crops of Fascinating.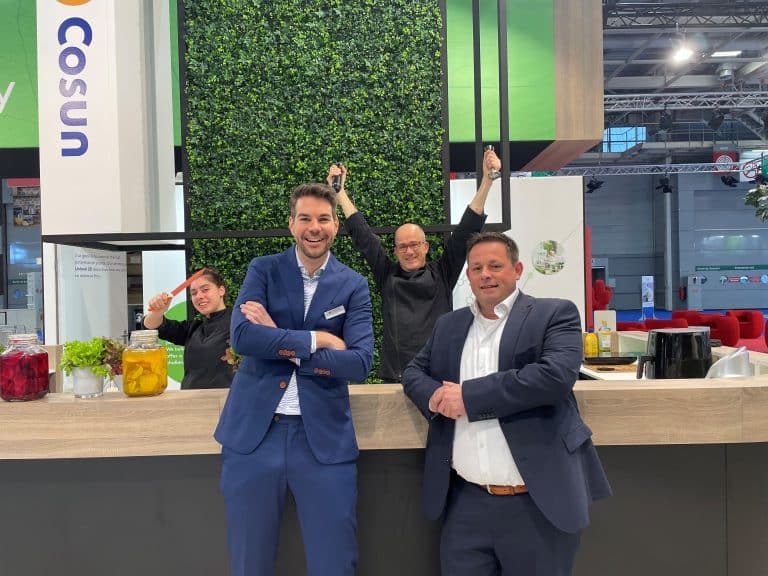 "
Because it's a high-fibre ingredient, Fidesse® can make a product juicier, thereby enhancing the taste experience"
Fabian Griens
Technical Support Specialist