The Fascinating innovation programme is focussing on this. Its activities tie in seamlessly with Cosun's innovations in the protein transition and more sustainable forms of food production. Cosun is contributing to all of the ambitions of Fascinating.
Fourth crop

A fourth major crop in the Netherlands alongside grain, sugar beets and potatoes: a crop that is specifically grown to produce plant-based proteins from various sources. That is what Fascinating hopes to achieve. And it is sorely necessary. Firstly: you cannot achieve a protein transition without plant-based proteins. This transition from animal to plant-based proteins in our diet is necessary to be able to use more land to grow food instead of feed crops and feed more people. A fourth crop also helps to maintain soil fertility: an additional crop for crop rotation so that soil-borne diseases are less likely to infect plants. And finally, it also contributes to biodiversity.
For farmers, it paves the way for a more profitable growing plan, something to which Groeikracht by Cosun is also committed. "Protein production can give rise to a new earning model. With a new crop, as well as a higher beet price", says Teun van der Weg, Innovation Manager at Cosun Beet Company. "That is our ambition: to help arable farmers by adding as much value as possible to the crops they grow."
Next step: demonstration plant

"Cosun is already engaged in the protein transition. The Cosun Nutrition Center is conducting scientific research to understand which proteins contribute to a healthy food pattern. Cosun Protein extracts protein from beet greens to produce Rubisco, among others. A protein production pilot project has since been launched at Inicio, Cosun's demonstration plant in Dinteloord. "Now we have come to the next stage, a demonstration plant", says Teun van der Weg. "Together with the other partners of the Fascinating project, we are exploring the possibilities for a protein plant that we will use to extract protein from various crops, from various parts of the plant. The business case must be finalised by next year. The plant's scale is in line with the production scale that Cosun can currently guarantee."
Processing more crops
"Rubisco is a functional protein that is used to improve foodstuffs. But we also need a wider range of functional proteins, that you can use to prepare foodstuffs. Like the protein that is sourced from alfalfa or field beans, for example. Beet greens are only available for a short period during the year. We want the demo plant to also process other crops. Alfalfa can be harvested from early May onwards. But it contains double the amount of proteins compared with beet greens, namely 2 percent. On the other hand, beet greens are a residual product that we did not utilise up until now. This circular approach adds value to the growing of beets. And with Duynie Group, Cosun already has a company that is specialised in the valorisation of residual streams. That is also what they are working on within Fascinating."
Healthy soil

In addition to sustainable applications, Fascinating is also studying more sustainable growing methods, with respect for the balance of nature. Teun van der Weg: "The ambition is healthy soil, meaning the soil biology is preserved as is as much as possible. We are conducting all kinds of research within Fascinating, running tests in the fields. We are looking at alternative tillage methods and crops without fertilisers, for example. Groeikracht is involved in all these tests."
Groningen

"Fascinating was established to create new economic prospects for Groningen after the gas field was closed. What makes this project so unique is that the four national cooperatives have joined forces for this project. I think Groningen is just the beginning", Teun van der Weg concludes.
What is Fascinating?
The starting premise of Fascinating is to produce the foodstuffs that people need, while respecting the balance of nature. Fascinating, an open innovation programme, was established at the end of 2020 in Groningen. The programme aims to set up profitable, large-scale and sustainable protein production and processing in this province. The four largest agricultural cooperatives (Cosun, Agrifirm, Avebe and FrieslandCampina), LTO Noord and the Province of Groningen are developing a system to produce healthy foodstuffs – micronutrients, proteins and fibres – in a future-proof way. They have joined forces with farmers and organisations such as the University Medical Center Groningen. Their ambition is to produce food products with a positive impact on people's health, whereby the needs of the agricultural soils determine how and which crops are grown, with gentle, energy-efficient and sustainable processing, whereby residual streams are valorised and loops are closed.
Manifesto

On 16 November 2022, the five founders and Rabobank Nederland presented a manifesto in which they commit to investing in Fascinating's ambitions. "We are developing an improved earning model for farmers, growers and other stakeholders, the establishment of supplying and processing companies and the creation of jobs in the region, training of existing and new talent, healthier soil, increased biodiversity, healthy food, and new knowledge about the effects of a healthy diet."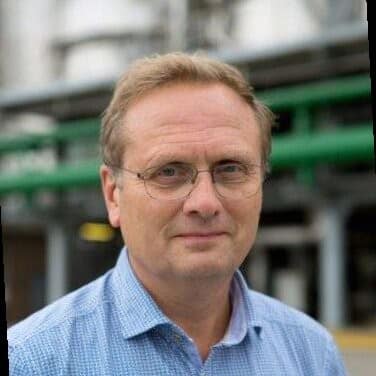 "
Fascinating was established to create new economic prospects for Groningen after the gas field was closed. What makes this project so unique is that the four national cooperatives have joined forces for this project. I think Groningen is just the beginning."
Teun van der Weg
Innovation Manager, Cosun Beet Company