The new Cosun Nutrition Center conducts research and gathers scientific information on plant-based nutrition in relation to health and sustainability. They share their knowledge internally with their Cosun colleagues and externally with health professionals, scientists, and the media. Cosun Nutrition Center is also actively seeking dialogue on social issues.
Responsibility to inform

Andries Olie is a Senior Manager of Nutrition, Health & Sustainability and spokesperson at the Cosun Nutrition Center. Andries explains, 'Cosun is a big player in sugar and chips. These are tasty products that can be part of a healthy diet and which people enjoy, but which – if consumed in excess – can also contribute to obesity. As a company, we have a responsibility to society here. We have to be transparent about the nutritional aspects of these products, so that people can make an informed choice.' In July 2022, the Cosun Nutrition Center was launched from the former Sugar & Nutrition Knowledge Centre and is a food science knowledge centre that bases its communication on scientific consensus. The main change is the focus on the full range of foodstuffs and ingredients that Cosun produces from its crops. In addition to health, the theme of sustainability within diets will also be addressed from now on.
Maximum value from the plant

As Cosun's product portfolio goes beyond sugar and chips, a portfolio shift is taking place at the Cosun Nutrition Center: 'Based on the Cosun strategy, Unlock 25, we want to make the best use of the plant. What I really like is that we at Cosun are making more efforts to find health-enhancing and green alternatives. Examples include the dietary fibres produced by Sensus and the production and development of plant-based protein by Cosun Protein. Another great example is a product developed by Aviko Rixona called "Potato Cheezz": a plant-based alternative to ordinary cheese that is significantly lower in calories and contains no salt or cholesterol.' With its plant-based products, Cosun is contributing to a more sustainable diet: 'On average, six grams of plant protein are needed to produce one gram of animal protein. It therefore makes sense that direct consumption of plant-based proteins is much more efficient.' Various organizations, such as the Health Council of the Netherlands, the PBL Netherlands Environmental Assessment Agency, the Dutch National Institute for Public Health and the Environment, and the Dutch Council for the Environment and Infrastructure, recommend eating more plant-based food and less animal-based food. 'The ratio of animal protein to plant-based protein in our diet should change from 60% animal protein and 40% plant-based protein to 40% animal protein and 60% plant-based protein. This is known as the protein transition, and Cosun is responding to it,' explains Andries.
Opportunities for product composition

A shift to more plant-based diets is good for the environment and generally offers health benefits. This does depend on which plant-based products you eat and to what extent. Andries adds, 'We want to express that in our communications with health professionals and at Cosun itself. Where do certain plant-based and animal foodstuffs differ in nutritional value? And how does that fit into a sustainable diet?' New applications of plant-based food also offer opportunities for healthier product composition. Andries explains that dietary fibres are a growth area at Cosun. 'Many people don't manage to consume the daily recommended intake of fibre[1]. Adding inulin, the fibre that Sensus produces from chicory roots, to products both increases the fibre content and reduces the number of calories.'
Objective choices

The Cosun Nutrition Center bases its communication on scientific facts. These are derived from both independent guidelines and studies in which the centre is involved. The information is validated by a Scientific Council, which consists of professors with expertise in the fields of nutrition, health, sustainability, and communication. 'Our Scientific Council reviews our communications and advises on studies we can participate in.' The studies that the Cosun Nutrition Center co-finances are carried out in cooperation with universities or research groups. 'No matter what the results are, everything is published.' Andries considers this transparency to be a matter of course. 'That is an important core value for good research.'
Valued partner

The Cosun Nutrition Center aims to be the place where health professionals can go for scientific information on plant-based nutrition. The first steps are now being taken by building the website and filling it with information. The next step is to further disseminate the knowledge and engage in dialogue. This means at conferences, through round-table discussions, via newsletters, or through webinars. The information is also disseminated internally, for example by giving presentations. Andries clarifies, 'The ultimate goal is to be both a source of information as well as a reliable and valued partner in social discussions and topics such as the protein transition, sugar tax, and the Nutri-Score.' By continuing to develop its knowledge of plant-based foods, the Cosun Nutrition Center contributes to Cosun's mission from a scientific perspective: Plant-based solutions to societal challenges and transitions.
[1] (Sources: richtlijn voor de vezelconsumptie | Advies | Gezondheidsraad, Inname vezel | Voedselconsumptiepeiling (wateetnederland.nl) only available in Dutch).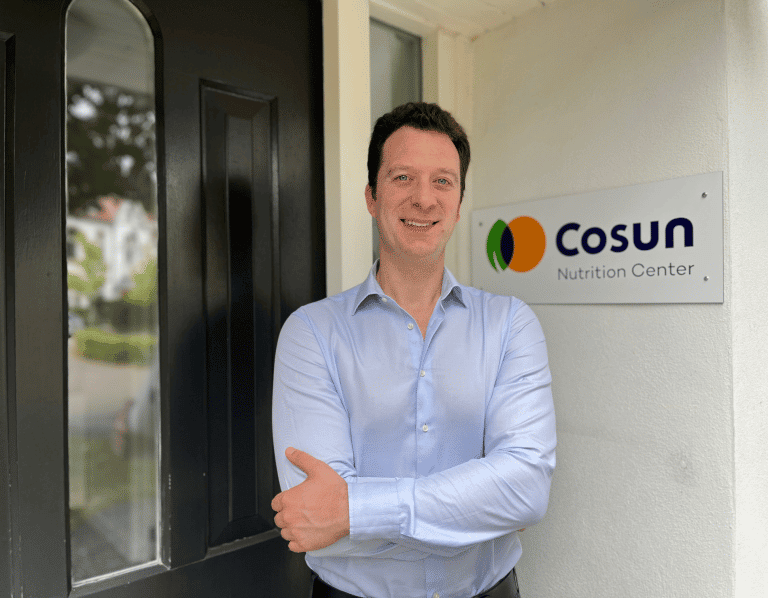 "
It's great that we as Cosun are using the Unlock 25 strategy to promote healthier and greener alternatives"
Andries Olie
Senior Manager of Nutrition, Health & Sustainability and spokesperson, Cosun Nutrition Center